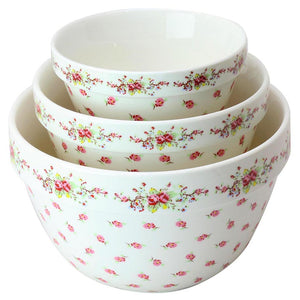 Vintage Rose 3 Pc Mixing Bowl Set
Invite the beauty of the outdoors into the kitchen with these charming Vintage Rose Mixing Bowls. This set of three bowls adorned with pretty pink roses will be a welcome addition to freshen any kitchen! The bowls are made of porcelain and the set includes a large bowl (44 oz, 7" dia), a medium bowl (22 oz, 5.5" dia), and a small bowl (10 oz, 4.5").
The "Vintage Rose" Pattern is also available in a tea sandwich serving tray and  teacups!