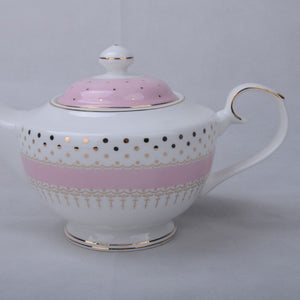 The Jane Collection Pink and Gold Polka Dot Teapot
Pink and Gold Polka Dot Teapot from the Jane Collection - Reminiscent of Jane Austen's life in the regency era, this porcelain teapot evokes grace, elegance and refinement.  The perfect teapot to adorn afternoon tea or a tea party among friends. Perhaps a Bridgerton themed tea party is in order! The porcelain teapot holds 6 cups. 
The Jane Collection also includes matching pink and gold polka dot teacups, cream pitcher and sugar bowl to complete the tea set.