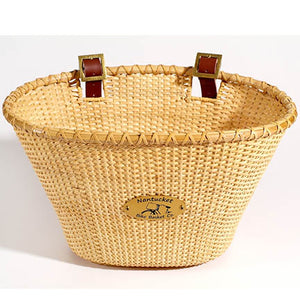 Oval Lightship Adult Bicycle Basket - Back in Stock!
Oh JOY - these pretty bike baskets are back in stock!
Inspired by original lightship baskets from Nantucket's history, this Lightship Bicycle Basket is hand-crafted from durable finely woven rattan cane which can hold up to 13 pounds. The unique Oval design adds style and functionality to your bike as you whisk away on afternoon bicycling adventures. The basket easily attaches to the front handlebars with two leather straps and measures 14" l x 10" w x 8.5" h - the perfect size for storing wonderful finds along your way!