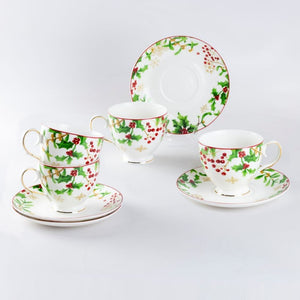 Holly Jolly Christmas Teacups - set of four
Holly Jolly Christmas Teacups - Add a little Christmas splendor to your table with these festive teacups and saucers adorned with brightly colored holly and golden snowflakes. Perfect for a Christmas tea party!
Gift Giving Hint: These darling teacups make wonderful Christmas gifts for friends who love tea. Buy the set, tie a cup and matching saucer with a Christmas ribbon and and gift a single teacup to each friend. Now you can all enjoy tea together, weather near or far away. Made of fine porcelain. Each teacup holds 8 oz. The set includes four matching teacups and saucers.