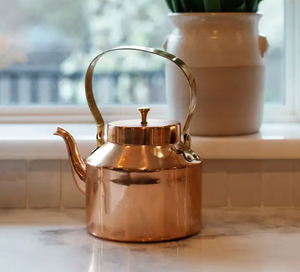 The Classic Copper English Tea Kettle - Coming Soon - Email to join the waitlist
Copper English Tea Kettle - This beautifully crafted Copper Tea Kettle invokes a rich sense of nostalgia and tradition to the kitchen. It is made of 100% pure and coated copper for an heirloom quality piece to enjoy for years. Use it to heat water for your favorite piping hot beverage with style and grace. Just as the song from the musical "The Sound of Music" implies, this lovely bright Copper Kettle - and at such an affordable price - is one of our favorite things...and we suspect it will become one of yours, as well!

This lovely Classic Copper Kettle measures 6" wide (8" wide with spout) x 6" tall. When the Brass handle is fully extended upward it is 9.5" tall. It holds 10 cups.