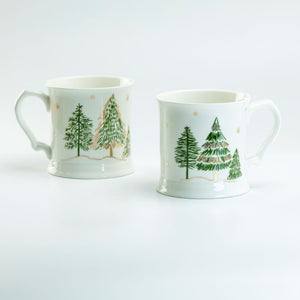 Winter Forest Coffee Cocoa Tank Mugs - set of 4
These charmingly designed Winter Forest Tank Mugs hold 13 oz of steaming coffee or hot chocolate. They are made of fine porcelain with gold accents. The set includes 4 mugs with 2 different tree designs - both with shimmering holiday flair.
The perfect addition to our matching Winter Forest Dinner and Dessert Plates.