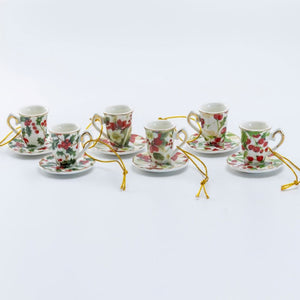 NEW! Porcelain Christmas Teacup Ornaments - set of six
Deck the halls with TEACUPS this Christmas! This set of six darling miniature porcelain Christmas teacups and saucer ornaments includes an assortment of holly and poinsettia designs with little golden strings ready for hanging on your Christmas tree. They also make unique guest for favors for Christmas tea guests!
The teacups and saucers are glued together so they will hang beautifully on your Christmas tree or garlands. For decoration only. Not food safe.
Gift Idea - These little teacup ornaments are wonderful and affordable tea themed gifts for friends who enjoy the art of taking tea. Simply place each ornament in a clear cello gift bag and tie with a festive ribbon, then you're ready for gift giving!